UPDATE: A previous integration with Zoom has been removed from our platform. This post has been edited to reflect the change.
Great news! We've added Google Meet as a new video meetings messaging channel for EngageCRM with Conversation Engine.
People worldwide have discovered the power of video meetings to connect with distant family and friends. And now you can easily schedule similar conversations with your prospects for a unique and highly personal experience.
Face-to-face video meetings help build trust with your leads. Sitting down at a "virtual table", you can chat about issues in a way that feels more personal than a standard phone call. (And MUCH more than text or email.) Video creates an unbeatable sense of connection.
Google Meet is a robust video meeting solution, with HD video & audio, recordings, screen sharing, easy group chat, password security, and more. It works great with any device and doesn't require hefty software downloads.
And now with Engage you can create new video meetings with just one click! Scheduled meetings appear on your calendar, and you can email the meeting link directly from within Engage. You can even start instant meetings if you're chatting with a prospect who's open to jumping on a video call.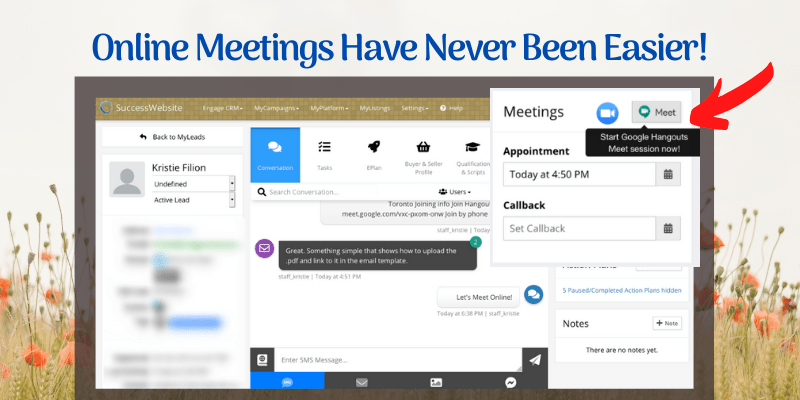 Use video meetings for lots of different lead capture and prospect services:
small-group Q&A sessions
virtual open houses (review and discuss property details)
buyer & listing presentations
reviewing buyer & seller agreements
…and anytime you want a personal, face-to-face conversation
Video Meetings Channels available now!
Google Meet is available now in Engage to further expand your communication options. Note that you'll need a Google Workspace account to connect them. Our Marketing Support team can help you set this up, and demonstrate how to create scheduled and instant meetings. Click here to schedule an appointment today.
Committed to Your Success,
Stephen Raitt
President & Co-Founder
Success Real Estate Marketing / Craig Proctor SuccessWebsite