If you've tried Google Ads before with little success, or previously dismissed it as too complicated, now is an excellent time to take a second look. Many recent changes, both to market conditions and the platform itself, have turned it into an ideal source of high-quality leads.
Want to learn more and get started with
Google Ads for your SuccessWebsite system?
Schedule a FREE Google Ads Review now
Now more than ever people are researching online where to make their next move. The coronavirus pandemic has caused some to rethink their lifestyle. Close quarters in quarantine have led to relationship breakdowns, causing divorce and need for couples to sell their house. And increases in remote work have made it less important to have public transportation and other amenities close by.
Google is one of the first resources people turn to for real estate information. With 3.5 billion queries every single day, Google is the leader in online search and digital advertising.
Check out these recent stats from Google Trends for the search term "Toronto Real Estate." Even during a global pandemic, valuable search terms remain steady if not on the rise. (Try it for your own market and see.)

Google Ads has Changed
Maybe you tried Google Ads back when it was known as "Overture" or more recently "AdWords." Many users found Google advertising complicated to manage. Shinier advertising platforms like Facebook and Instagram have grabbed the attention.
But Google is worth revisiting! Its keyword- and search-matching technology has gotten way better. Smart technology like RankBrain — an artificial intelligence system for matching search queries to results — is a clear sign that Google is serious about targeting. They want both users and advertisers to get the most refined and relevant information.
These days, Google is doing a much better job stretching your budget and connecting your advertising to the best-quality prospects.
Optimized "Mobile-Friendly" Delivery
Mobile traffic makes up for over 70% of ad clicks. Google optimizes ads specifically for phones and tablets.
Google Search also has expanded their ad formats to allow more text. This is an enormous benefit for advertisers. We're no longer restricted to a few lines of text with 35 characters per line. We can now attract the ideal prospect with more detailed offers.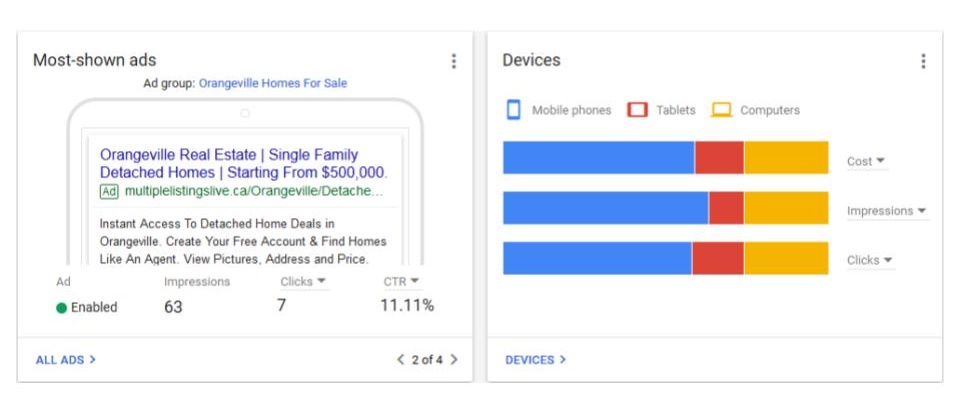 Audience Targeting is WAY Better!
Google has also put more of a focus on Demographics and has new targeting options. Not only can you decide who you want to target within the Google Search engine, but you can see whether that group is reacting and engaging with your ads. For real estate, Google has specific targeting options such as Homeownership Status, Real Estate – Houses For Sale, Residential Property For Sale, and more.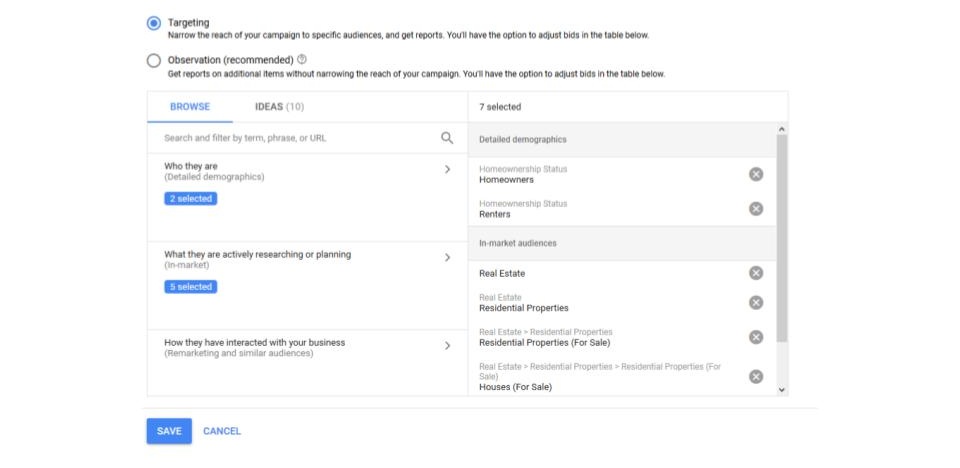 Google Brings Leads with INTENT
The #1 goal of any online advertising campaign is to generate quality leads with intent. Because Google shows Ads to users based on their own real estate queries, your leads are more likely to be actively looking for a home or a real estate agent. Higher-quality leads means a better return on your ad spend (which Google can also track if you provide it with conversion data).
What Google Ads Get the Best Results?
The key metric we look at is how many leads converted into deals and transactions. Our Success marketing specialists work hard to make sure we're getting the highest rate of return from your Google campaigns. A few key tips we've learned:
Only target the cities and towns that YOU service.
Schedule your ads to show only when you're available for conversations with a lead.
Offer a list of homes specific to what the prospect is searching for.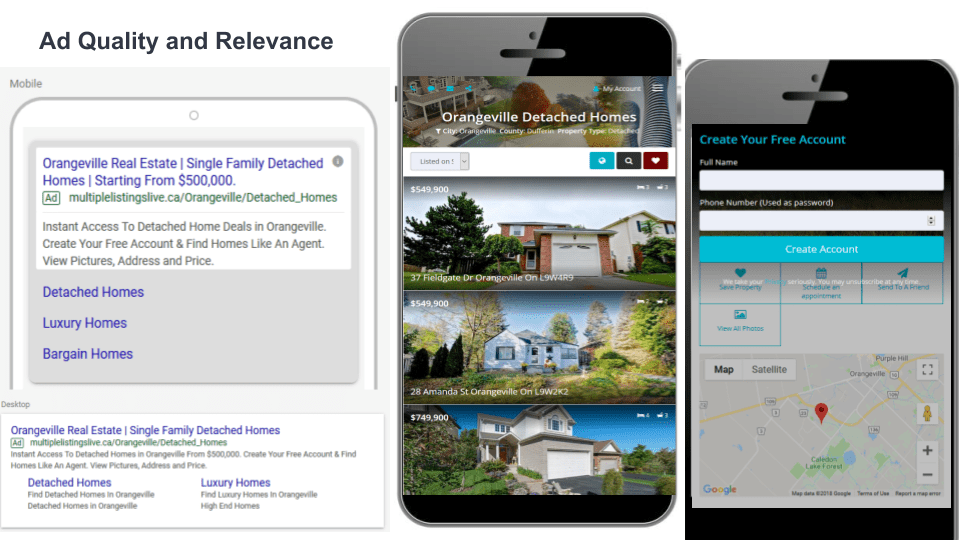 Other lead generation companies use general, broad-based ads to get as many leads possible for the lowest cost. We create property-specific ad campaigns to match what your prospect is looking for. For example, if the prospect is searching for "Orangeville detached home for sale $500,000," we want to show them an ad (and list) matching that criteria, not send them to a generic search portal to do more work.
Get More of Your Google Leads on the Phone with EngageCE
Once we've captured leads with a higher level of intent, the #1 goal is to identify and connect with the ones ready to talk!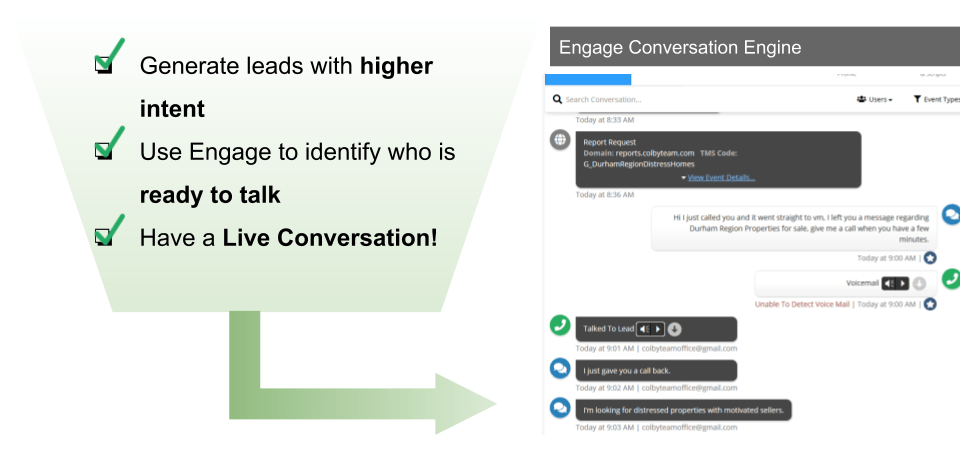 The Engage Conversation Engine is our game-changing follow-up system that responds to your leads automatically and nudges them to reply. Pre-built or custom conversation sequences identify motivated leads ready for a conversation. You don't have to be on the phone doing callbacks 24/7 — the best-quality leads will call YOU!
Get Started Today!
If you're interested in running Google Ads or want help to improve your current Google marketing, please schedule a free Google Ads Review with one of our Digital Marketing Specialists. We're happy to help identify your needs and provide recommendations!
If you're more into learning through watching and listening, please check out this recently recorded Jumpstart LIVE webinar on the NEW Google 2.0! (Private members site login required.)