After months of development, today we're proud to introduce you to EngageCRM, our all-in-one lead management and conversation follow-up system proven to get leads to respond.
The new system is active as of today – current subscribers to SuccessEngage are the first to get access to this special release — we've automatically upgraded you to EngageCRM (at the same monthly fee). MyLeads users will also benefit from improvements to the design and interface (as we've highlighted below).
There are countless updates and enhancements throughout the entire system, many of which are based on feedback you provided. Here's a quick overview of the most important new stuff.
First, why is EngageCRM such a big deal?
Helping Craig Proctor members accelerate implementation of Craig's unique follow-up process has been a priority of ours since the very first days of our Stay-in-Contact automated email system and the original MyLeads.
Over the years, this philosophy has gone much deeper. Today more than ever, the all-important trust factor necessary to get more clients is built through personal conversations. Leads are more than simple records in your CRM – they're real people who respond to dialogue that makes them feel individual and unique.
Craig's system has always focused on some essential principles:
Dedicate regular time to calling your leads (6 hours per week or more)
Use Action Plans to track the tasks for nurturing your lead relationships
Respond quickly to ALL new leads and active conversations to capitalize on their interest and attention
To support these principles, last year we introduced automatic dialing, text messaging, and "lead nudges" as part of the SuccessEngage package. These enhancements proved to be incredibly successful in helping members create more live conversations faster. ("A game changer," as one of our members put it.)
EngageCRM is even more tightly focused on Craig's system, maximizing the efficiency and effectiveness of your follow-up and generating more live, personal conversations. It's now the very best way to put Craig's principles to work with your online leads. If you can select only one upgrade for your Success platform, THIS is the one to pick!
And here are just some of the new reasons why…
Engage Blocks: Dedicate regular time to calling your leads
Consistently blocking dedicated follow-up time on your schedule is the key to nurturing more conversations with more leads. With EngageCRM, you can create recurring Engage Blocks tied to the specific types of leads you'd like to call on various days and times during your week. Two-way sync with Google calendar ensures these appointments show up in your daily schedule, and you also receive advance notification of each call block to remind you to drop everything else and get on the phone.
Each Engage Block has its own lead segment filter. So, if you've set up a block to call your "Moving in < 6m" leads, just click the block and all current leads matching those criteria are automatically loaded into the Engage dialing queue with just one click! Each block also has its own Nudge plan, so you can set up different specific pre- and/or post-call messaging for specific types of leads.
MyLeads users: We've updated your Calendar too! It will list the callbacks and appointments you log manually for each lead, and it also syncs with Google.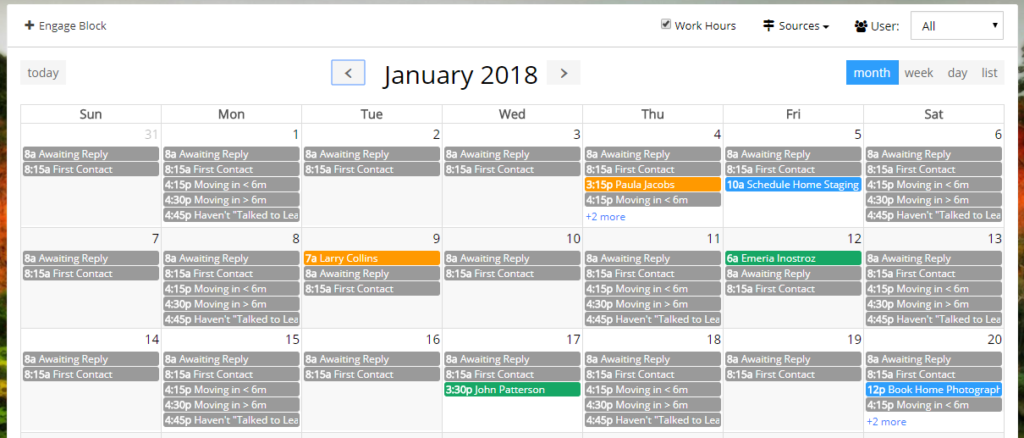 Action Plans: Track tasks for nurturing your leads
Engage Blocks are your Plan for making initial contact with your leads. Once you've made contact, you will then have various tasks to prepare for an appointment or set them up as a client. EngageCRM allows you to track, manage, and assign lead-related tasks for yourself and your team. You can create single to-dos and/or complete Action Plans (with any number of included tasks) and keep everyone up-to-date on what needs to be done next. Mark a task as a "Deadline" and it shows up in your Engage Calendar, so you never miss a due date. Administrators can track everyone's tasks and assign roles so team members can only see the leads and tasks assigned to them.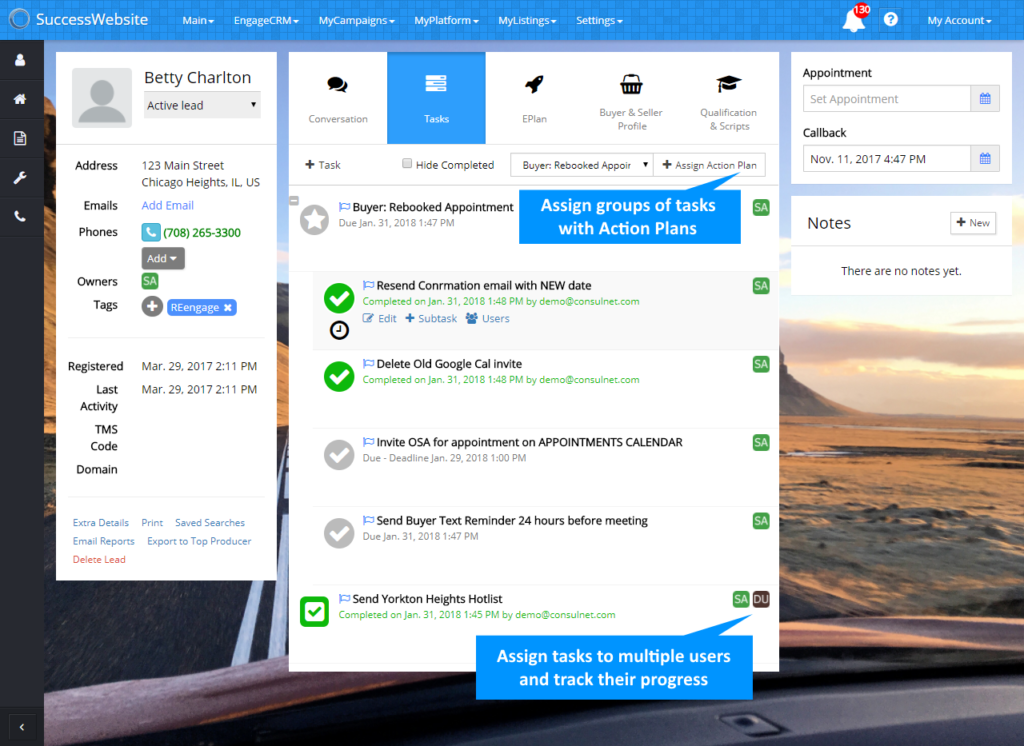 Quick-Connect: Respond quickly to conversations
We've also improved your ability to engage with single leads and respond quickly when they contact you, especially when you're not in the office. The Lead Details area has been completely redesigned and optimized for mobile devices. Your conversation history and communication tools are easily accessible in one place, so you can easily text, email, or dial a single lead without loading the full Engage queue.
We've also added a feature to let you log manual calls, so you can track the outcome of any calls you make outside the automated Engage system. (MyLeads users get this feature too!)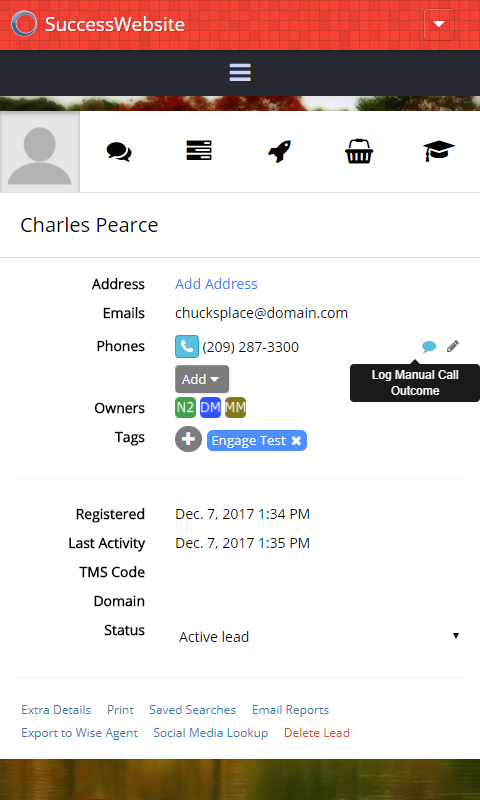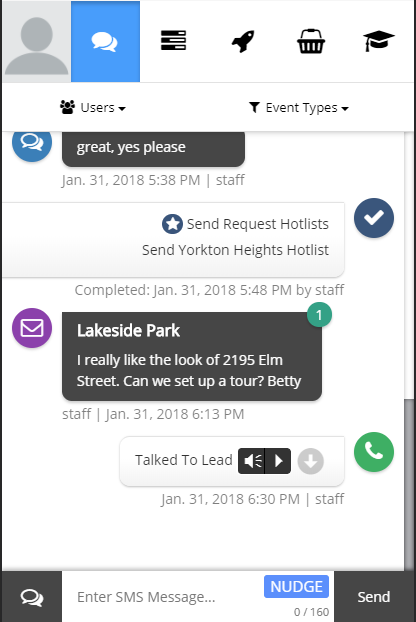 Interface Updates and Enhancements (for MyLeads users too!)
Based on your feedback, we've added many enhancements to both EngageCRM and MyLeads to give you quicker access to the most common functions. You'll notice we've added a new Grid View to the Leads list, for those times when you need to see more leads on your screen. The grid also allows you to easily sort the list by name, callback/appointment dates, and other fields.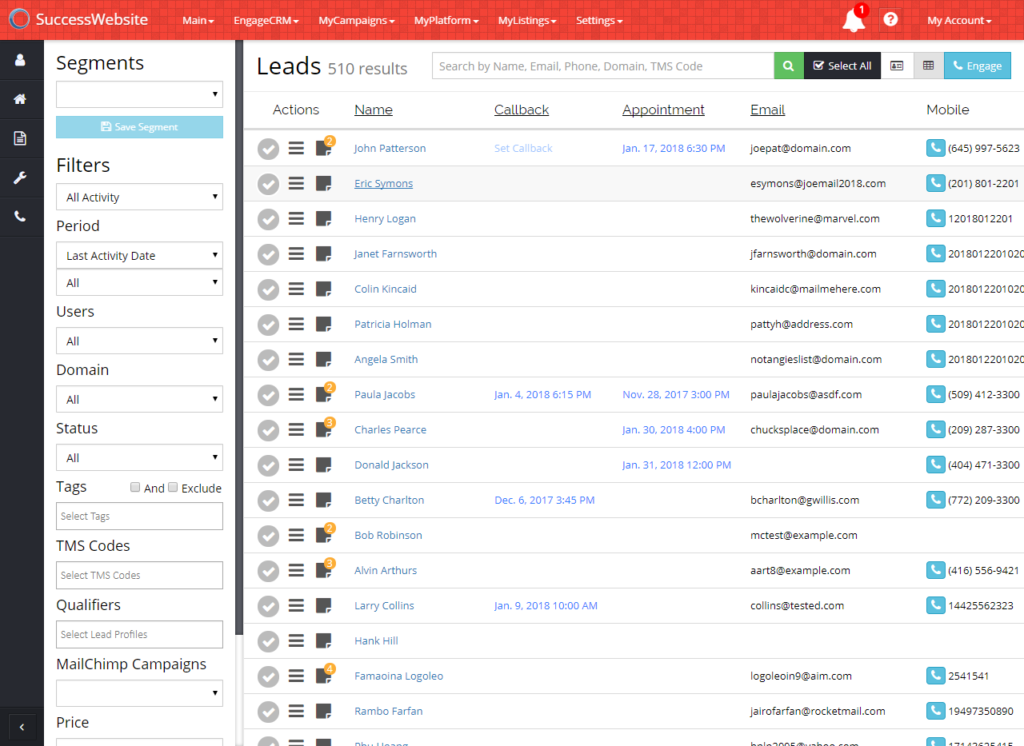 We've also added new information widgets to your Command Center Dashboard. And we've built in a ton of behind-the-scenes optimizations to make everything work much faster and smoother, especially on mobile. Try it out and see the difference!
Start today, be a super-agent like Craig tomorrow!
The SuccessEngage upgrade NOW INCLUDES EngageCRM at the same monthly fee (at least for now). MyLeads users can upgrade to EngageCRM today for $150/month. Contact your Success representative for the full story.
Growing your real estate business is all about how many leads you can convert. With EngageCRM, we're giving you our most powerful and complete system yet for putting Craig's principles to work in creating and managing personal conversations with those leads. Start today and make 2018 your best year ever!
Many thanks from all of us at Success!