Facebook Lead Ads are a game changer when it comes to online lead generation. The leads generated from these ads are not only cheaper but are 80% more likely to have accurate emails and phone numbers. This new method of advertising has our Success Team (and our clients) VERY excited! Especially when it comes to gaining more leverage for their listings.
Here we present a case study of Lead Ads in action!
The Importance Of Online Exposure for Your Listings

Meet our longtime member Kevin Flaherty of iPro Realty in Orangeville Ontario. Kevin and his team have spent a lot of time coming up with new ways to market their listings. He has dedicated employees hired specifically for creating 3D video tours, floor plans and aerial tours for his listings! In fact, he is far above his competition in providing value to his sellers when listing their home.
Check out my interview with Kevin on how to dominate your market and win more listings. 
So, when Kevin came to us asking how to expand his online marketing efforts to get more exposure for his listings, we were up for the challenge.
How To Generate A Steady Flow Of Seller Leads On Facebook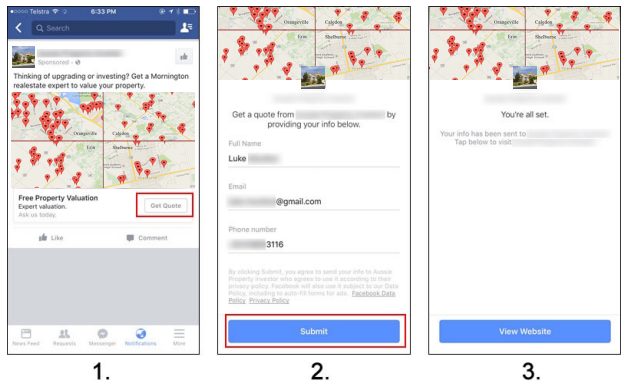 Facebook has different types of ads: post engagement, click-to-website, and now Lead Ads. With Lead Ads the prospect's information is automatically captured through the Facebook interface. Typically, our main objective would be to get the visitor to our landing page to capture their information. With Lead Ads, the landing page is built right into our ad!
Like many of our Campaign Management members, Kevin was already using Facebook to generate seller leads. The ad above, offering a list of Recently Sold homes (#1), was generating a steady flow of leads, so we decided to layer on another campaign in Facebook to promote one of his "off-market" listings.
In A Seller's Market, Buyers Are Desperate To Get The "Inside Scoop"
Kevin is in a Seller's market. Homes sell fast, often way above the asking price, and getting the inside scoop on new listings before they hit the MLS is extremely attractive to buyers. It's not difficult to sell a property, but if you can get multiple ends on each deal, that's where you can really start to leverage your listings.
Our goal was to get the new listing in front of local buyers and sellers on Facebook and compel that audience to take action and request more information about the listing. Simple enough, but, like all great concepts, it can fail quickly without proper implementation. We next had to figure out the best "hook" to get the lead.
The Best Way To Advertise Your Listings On Facebook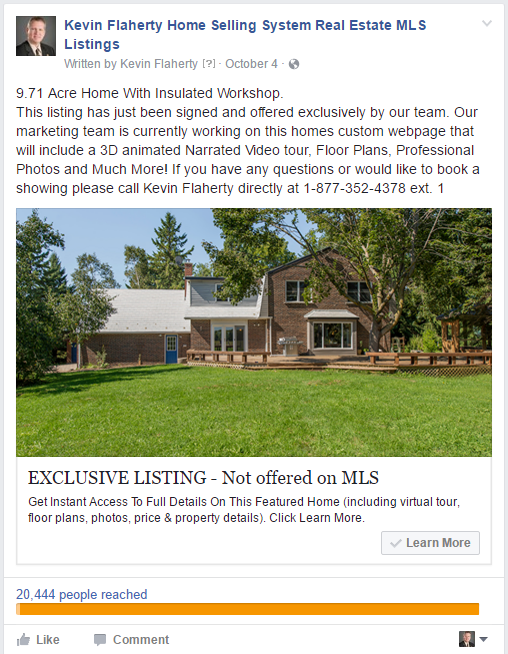 Here's the EXCLUSIVE LISTING ad we used on Facebook. Nice picture of the house and some details (withholding the address and price, of course) to entice the viewer to check out the home. When a prospect clicks the ad, contact info from their Facebook profile is automatically entered into the form and all that's left is to press the button to see the listing. Leads can get all the details in just two clicks.
What we've heard from Kevin is that, because it's automatically pulled from Facebook, the contact info for these leads is more accurate. This is great news because we all know how hard it is to follow-up with leads when you don't have a good phone number!
BONUS TIP: Make sure to include the Seller on your targeting list for the ad! When they see it in their Facebook feed, they will think you're a marketing genius! Not to mention how impressed they'll be with all of the buyer leads you will generate for their home (and seller leads for you too, because most buyers will likely have a home to sell).  🙂
Give Facebook Lead Ads a Try
Here's what you need to run this campaign:
A new listing
Facebook Ad Account
$5/day Budget
SuccessWebsite
Facebook Campaign Management
"There is no other online marketing system in the world that addresses the marketing needs of Realtors like the Success System. The system goes far beyond a web page and actually has the tools and training you need to generate all the leads you can handle!" – Kevin Flaherty/ Kevin Flaherty Home Selling System