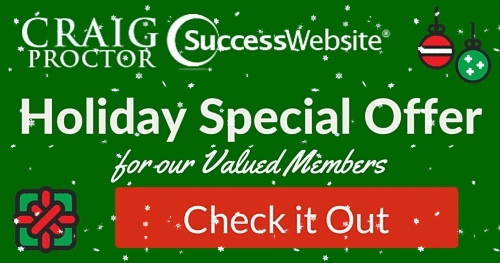 Now that the holidays are here and the year is winding down, the usual approach most agents take is to wind down their business operations, too.
This is the wrong strategy!
Yes, home sales generally slow during the winter months, but that's no reason to ramp down your marketing and decrease your lead flow.
If you do, when the Spring Rush hits you'll have an empty pipeline and few Buyer leads. Worse, the best Sellers may already have found another agent to work with!
People's interest in real estate never slows down. They continue to research local home values, first-time buyer programs, and other services you offer, all year round.
And the holidays give people a lot more free time to think about the future, and look around at what's available. Especially if they're testing out a shiny new tablet or laptop in the quiet time between family gatherings!
So this holiday season, don't do "the usual" and take your foot off the gas! The time to pickup new leads is NOW, while they're still near the beginning of the buying or selling cycle.
You can continue to run modestly-budgeted pay-per-click campaigns on Google and/or Facebook and pickup the leads that your competition is letting slide. Google is especially effective because it puts your ads in front of people at the EXACT moment when they're searching for real estate information. And Facebook's wealth of demographic data lets you target your ads to specific prospects.
Whichever you use, by Spring 2016 you'll be ready with a pipeline full of interested Buyers and Sellers.
Our very best wishes to you for a joyful holiday and a prosperous New Year!
PS: If you DON'T have Google or Facebook campaigns running (or even ANY marketing plan at all), then NOW is the time to take control of your marketing and make 2016 your BEST year ever. Check out our Holiday Special Offer now — available for a limited time.