Getting started with online lead generation is pretty straight-forward. Create and post one or more campaigns, then set up a follow-up system to contact your leads and work to convert them.
Once you have leads flowing in, though, the next steps to grow your business aren't so clear-cut.
Some agents scale up their ad spend, which does work. More impressions attract more leads, which brings in more appointments and deals.
But there's a better way that DOESN'T involve pumping more money or leads into your pipeline.
It's optimizing your follow-up.
Ask yourself these essential 2 questions:
Do you call your leads in the most efficient manner, maximizing the calls you make in your follow-up time?
Do you have a plan to maximize the number of leads that actually respond to your follow-up?
If you can't confidently answer YES to these questions, you're leaving a LOT of business on the table!
Get more business WITHOUT spending more $$
There are 2 things ANY agent can do to bring in more business, regardless of budget, market, or size of team. They are:
Prospect MORE
Prospect BETTER
"Prospecting MORE" means being persistent in contacting every lead.
Be honest – are you calling every one of your leads? Do you block time in your schedule that's ONLY for follow-up, and do you make all your calls? For the leads you don't reach, do you call again? And again?
I get that you're busy and time is always at a premium. But every lead you don't disqualify remains a potential opportunity. If you're not making multiple call attempts for every lead, those opportunities are slipping through your fingers.
Okay then, so what about those leads we just can't get to pick up the phone? Well, that's the second element…
"Prospecting BETTER" means contacting leads in different ways to nudge them to respond. Many leads will not respond at first. Current sales research indicates it can take up to 10 touches before they do.
If you're calling and calling leads with no response, do you have an alternate plan? Do you try other channels to start the conversation, like text messaging?
Maybe they're not picking up simply because they don't recognize the number. A simple text message could be enough to remind them who you are and respond. After all, they were interested enough to raise their hand as a lead in the first place – they could be more willing to talk to you than you think!
How to Optimize Your Follow-Up Process
These two ideas are simple but extremely powerful. When you Prospect MORE and Prospect BETTER, you squeeze the most business from your current lead flow. It's the best strategy for bringing in more business WITHOUT spending more money.
And although it seems like it's more work, here's where a SYSTEM can help you.
With a system, you can Prospect MORE and Prospect BETTER without spending more time. In fact, a great system actually helps you do it with LESS time and effort than you may be taking now.
Now, you can absolutely set up such a system by yourself, using any number of scheduling tools, automatic dialers, and SMS messaging services. But getting a bunch of separate tools to talk to each other like this can take a lot of time and effort, and reviewing your full conversation history with a lead will probably require you to jump between them a lot.
Luckily, we have a proven and fully-integrated system ready for you to use TODAY. It's called SuccessEngage.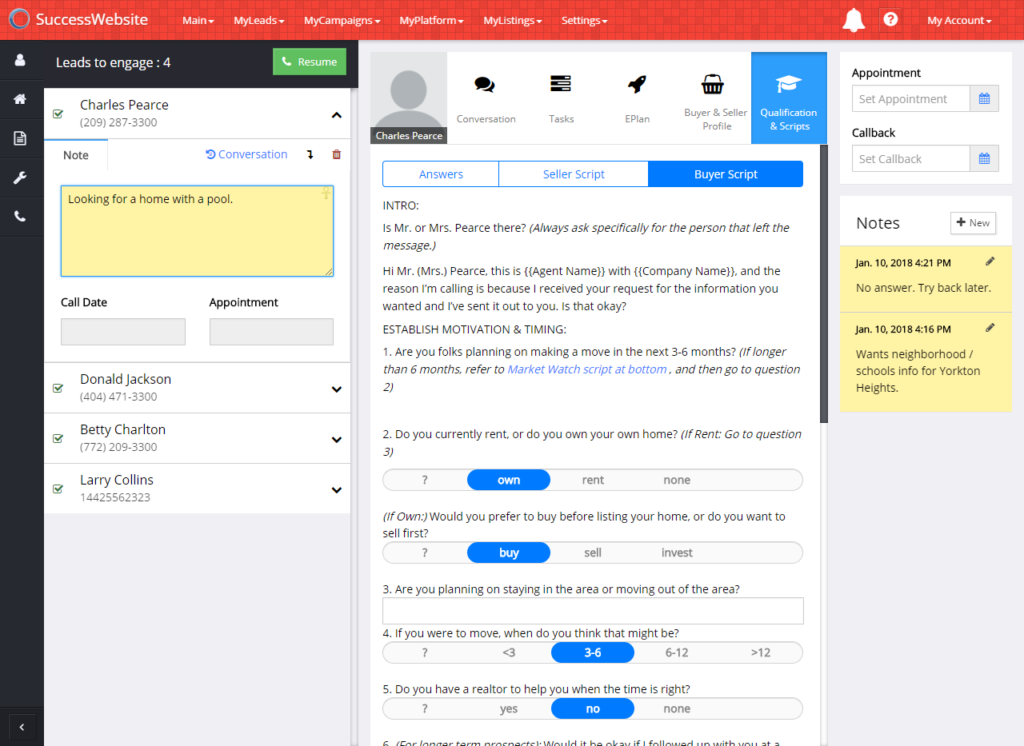 Engage helps you power through your follow-up calls. It connects automatically without the tedium of looking up and dialing phone numbers. If you don't get an answer, you can schedule your next callback with one click and instantly move on. Our members report they can get through lists of 30-40 callbacks in half an hour using Engage.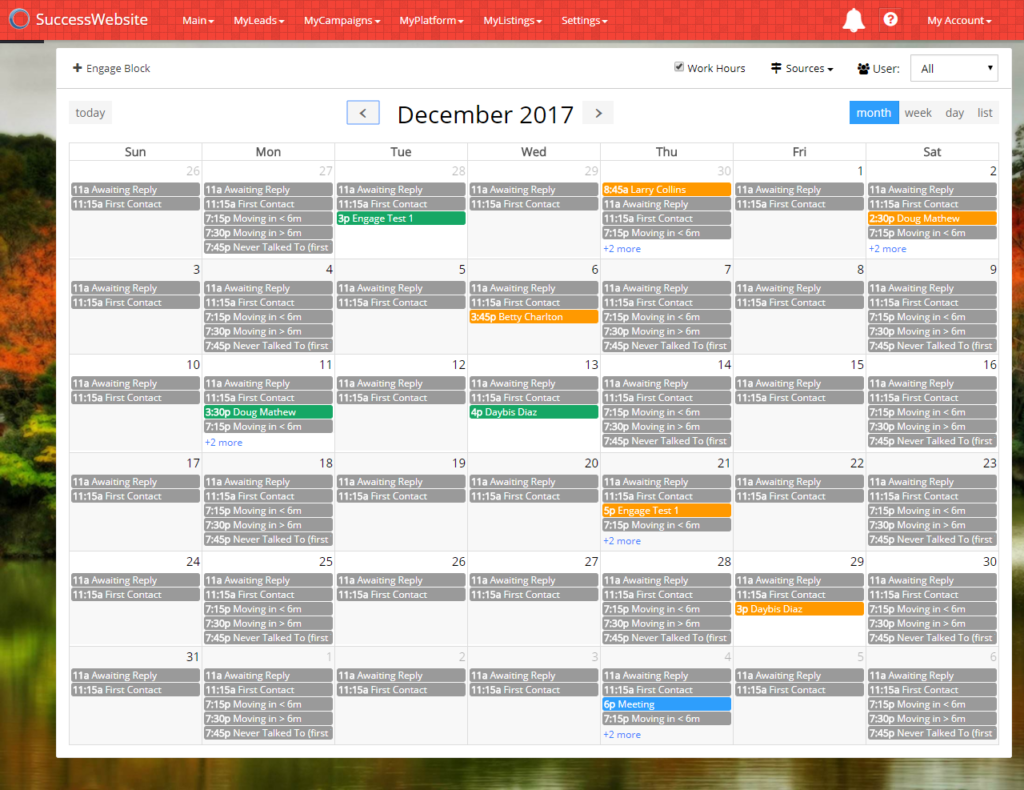 You'll likely have heard from Craig Proctor himself that regularly blocking calendar time exclusively for lead follow-up is essential to booking more appointments and signing more clients. Engage has your back here too – you can quickly set up repeating calendar blocks for different types of leads. These blocks sync with Google Calendar to ensure they show up in your daily schedule. When the time comes, you can load your latest leads into the dialing queue and start calling with just one click.
Speed plus efficiency. That's Prospecting MORE.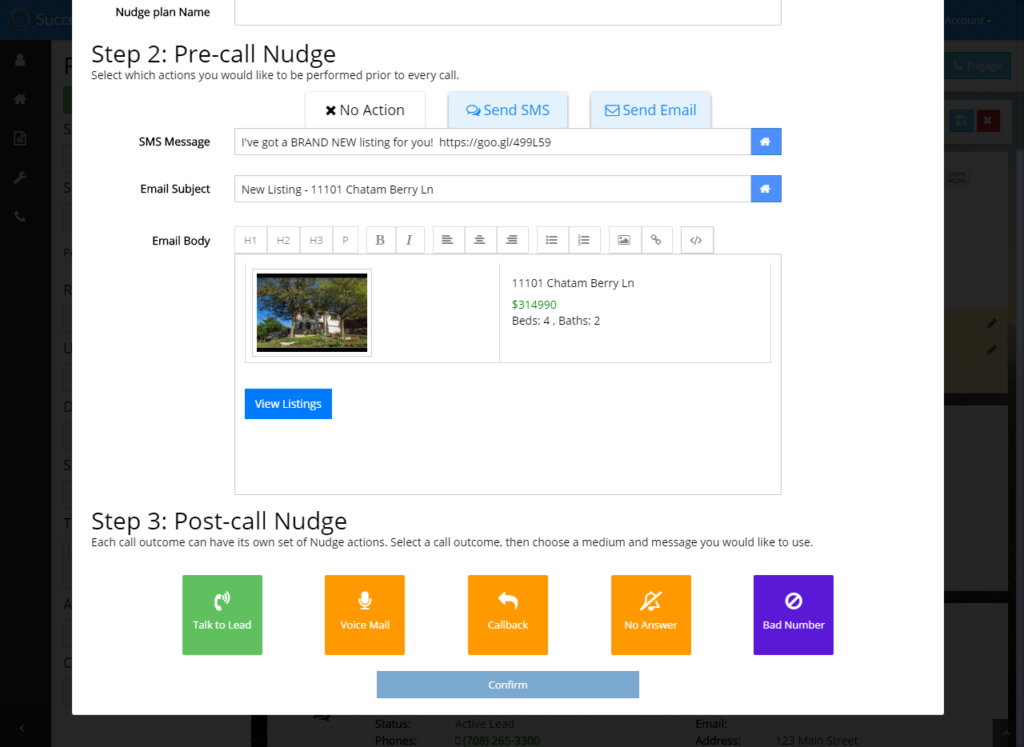 You can also set up automatic pre- and post-contact "Nudges" to compel leads to respond. For example, you can send new listings or HotList updates before a call. Or send a follow-up text to people who don't pick up to remind them who you are and find a better time to chat.
These Nudges go out automatically, without you typing individual emails or text messages. You can get two or three touches with every call attempt.
Amazing Lead Response – over 3x with SuccessEngage
Combining calls with text is powerful! Inbound lead responses for call-only follow-up average 1 for every 14 touches. For calls plus text, it's 1 in 4. That's Prospecting BETTER.
And because it's a fully-integrated CRM, your entire conversation history is stored with the lead in one place. Emails, text messages, phone call recordings, website and listing activity – all together for quick reference during your follow-up.
AND I haven't even mentioned the upcoming new Action Plans features, which let you assign and track any number of tasks and to-dos related to a lead!
Adding SuccessEngage to your follow-up process should be a no-brainer. Yes, it's a paid upgrade to your Success System. But what's the value of your time and effort to call, text and email all your leads, WITHOUT a system to help you do it efficiently?
And if you were going to do this by yourself, for free, or using alternative tools, wouldn't you already be doing it by now?
If you're ready to Prospect MORE, Prospect BETTER, and seriously grow your business, I urge you to give SuccessEngage a try. If it brings in just one more deal per month, it pays for itself – along with your entire SuccessWebsite System!
Contact your Success representative for a demonstration.