Converting a lead into a client isn't a linear or predictable process. It can often take months or even years of regular conversation to stay top-of-mind when the lead is ready to buy or sell a home.
Even with regular automated follow-up — like newsletters or property updates — picking up a previous conversation can be a challenge. "Hi, just checking in" seems like a stale cliché, and a templated broadcast is too impersonal. How do you start when you don't know what to say next?
StayInContact multi-channel messenger's Conversational AI can help! It reads the previous conversation and suggests a response fitting your brand's unique tone and messaging. StayInContact AI combines the power of ChatGPT with proprietary information based on our decades of digital marketing and follow-up experience.
Let's see it in action…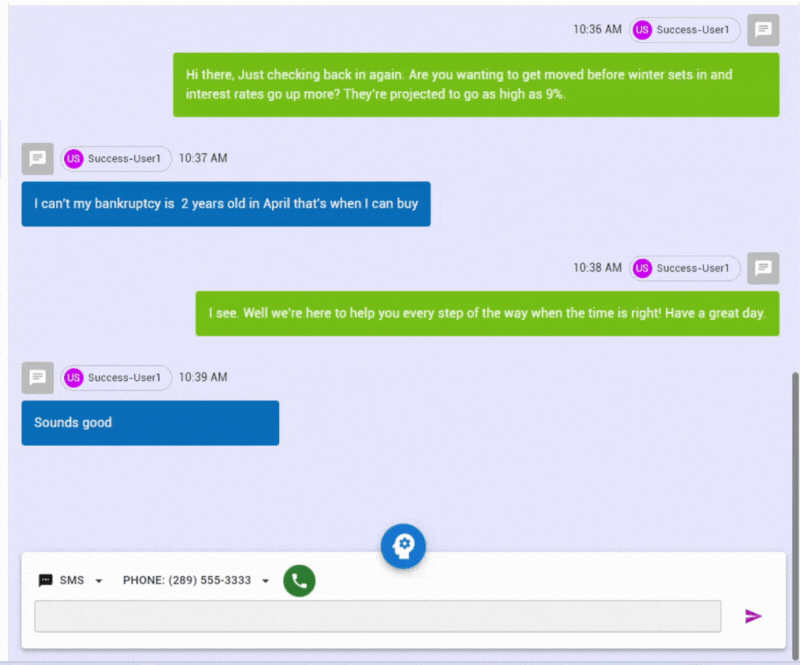 In the example clip above, the lead (blue chat bubbles) previously said they wouldn't be able to buy a home until April because of a bankruptcy. The conversation ended and the agent (green bubbles) wants to start it up again. (Maybe it's now March, and the agent wants to get the lead thinking about buying again.)
When you click the AI button, StayInContact generates a response based on the previous conversation and the team Role you select. In this Customer Service-based suggestion, the AI refers to an earlier comment about interest rates, then prompts the lead about their needs and timeline before moving to schedule a call.
It's simple and to the point. Not a bad way to restart the conversation. If the language seems off, simply click the AI button again to get a different suggestion, and/or edit it how you want before sending. You're always in full control.
Of course, this is a simple example. But consider how much time and effort it can save when you're working your database. Maybe the Spring Rush is coming up and you want to re-connect with all the leads you captured over the winter months. A template or "cut and paste" message is too general and won't be effective for everyone. StayInContact AI suggests messaging that's much more personal, and therefore much better at reconnecting. And it does it with lightning speed.
With that help, you'll be able to engage with your leads more frequently and consistently.
StayInContact AI can help all the members of your team with their day-to-day communication and lead follow-up. It's included for all EngageCRM users, and Success members can also use it independently for a low monthly fee.