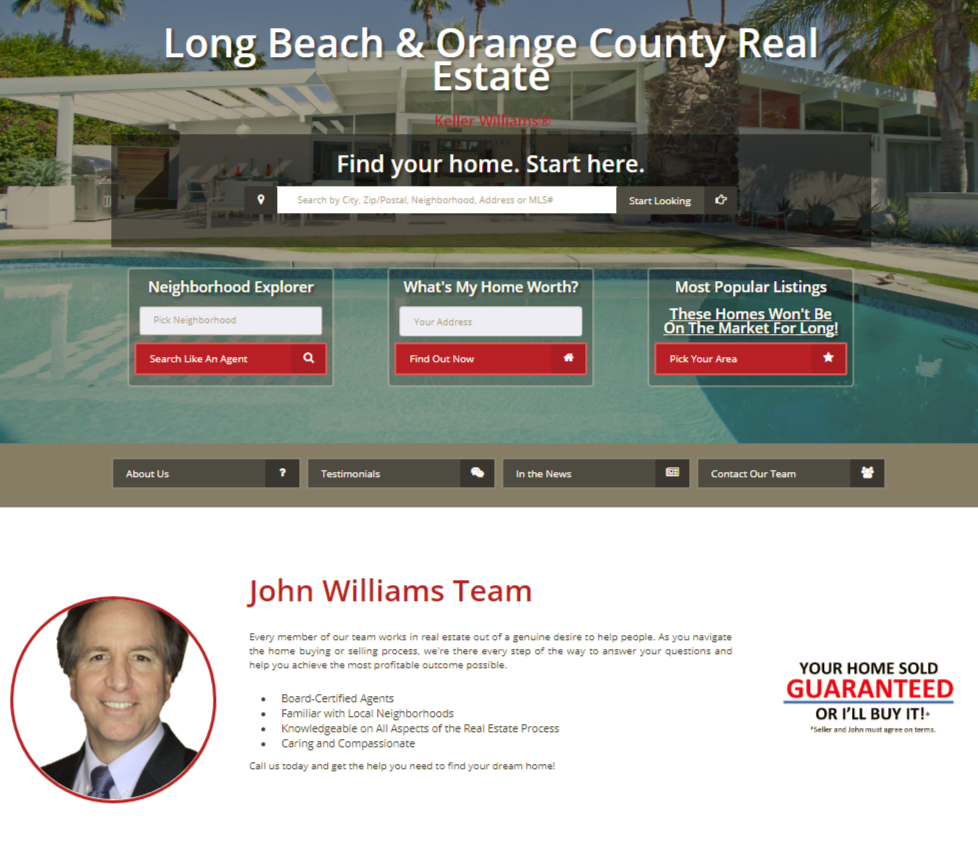 At a recent Craig Proctor event in Anaheim, we had the opportunity to speak with many of our clients about lead follow-up and conversion. It was amazing to hear how the SuccessEngage CRM is helping our members reach more leads, start more live conversations and manage their time more efficiently.
One story that resonated with me was from John Williams from Long Beach CA. John has been with Craig Proctor Coaching and Success for over 1 year, and his business transformation has been remarkable.
John Was Afraid To Spend More Money!
As a coaching member, John started out with the basic lead generation SuccessWebsite package. Like most real estate agents starting in the program, he was afraid of spending more money on upgrades and extras.
About six months into coaching, he made the leap to Platinum but wasn't sure he could afford all of the offered platforms and programs. After a good conversation with his coach, John decided that the Success upgrade package was the way to go:
"With all of the new programs Success has rolled out, at the price points you did, I couldn't pass it up!  For me, the difference was the Engage program."
Learning To Be Better At Lead Follow-up And Conversion
John also worked with his Craig Proctor coach on follow-up strategy. After watching the coach make some calls, John took that extra training back with him and naturally got better at converting his online leads.
John also ran some of the recommended Facebook ads and, with the combined help of CP Coaching and the Success Management team, he started to receive a steady flow of leads.
Best Quality Leads And How To Find Them
A new issue emerged once John had his Facebook campaigns in place. They were performing really well, but now John was having a hard time getting to all of the leads, and he also wasn't able to figure out which leads were the best quality to prioritize.
Here again, the Engage CRM provided the answer:
"It would tell me more information about the leads (i.e. social profiles) and I was able to cherry-pick the leads with valid contact info.
With the Engage program, I can go in and select which leads I want to call first. Call blocking (which I wasn't doing because I hated doing the calls) was an issue for me. But with the Engage CRM, I could just go and view the notes to see which leads answered my qualifying questions (i.e. timeframe) and select those ones to call first.
Once I've got my short list of better-quality leads, with a click of the mouse I've got them loaded into the Engage Dialer. And the great thing about it is they assign you a local number so the prospect sees a local number on their call display.
I've gotten a higher response rate of people actually answering the phone and I all have to do is bring up the callback script and be ready to do the script.
And so just from productivity Engage has made a huge difference in allowing me to make more calls in a shorter period of time.
Now I look forward to my callbacks!"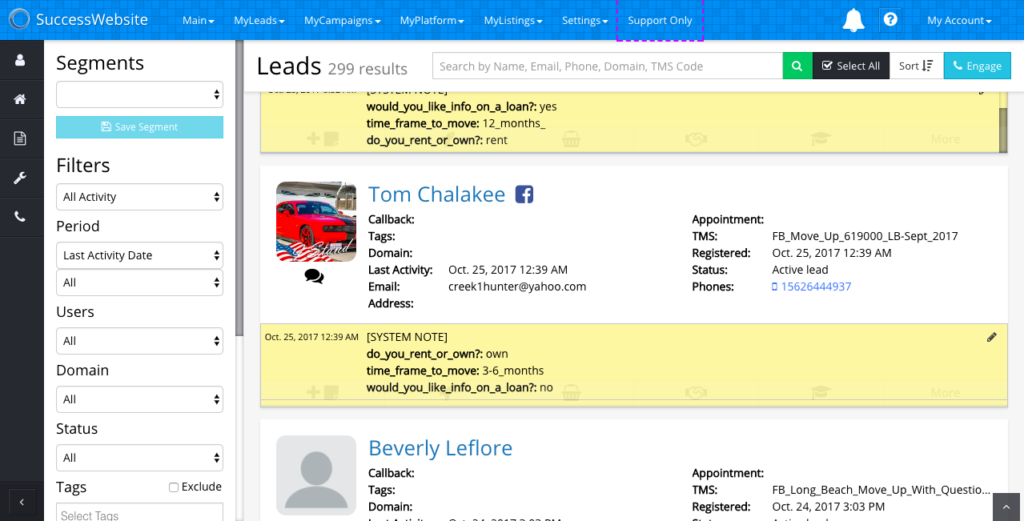 The Ability To Coach Yourself
As someone who is new to the system and not used to following up with online leads, John was eager to improve his technique.
"What has helped me is the ability to coach myself. Engage records the call for you, so when I go back and see I had a 20-minute call, I hear Craig's voice in my head saying 'keep the calls to 3 minutes!'
Listening to those recordings helped me better coach myself. I can also play those calls for my coach and ask him what I could have done better.
The recordings are really one of the hidden gems of the Engage program."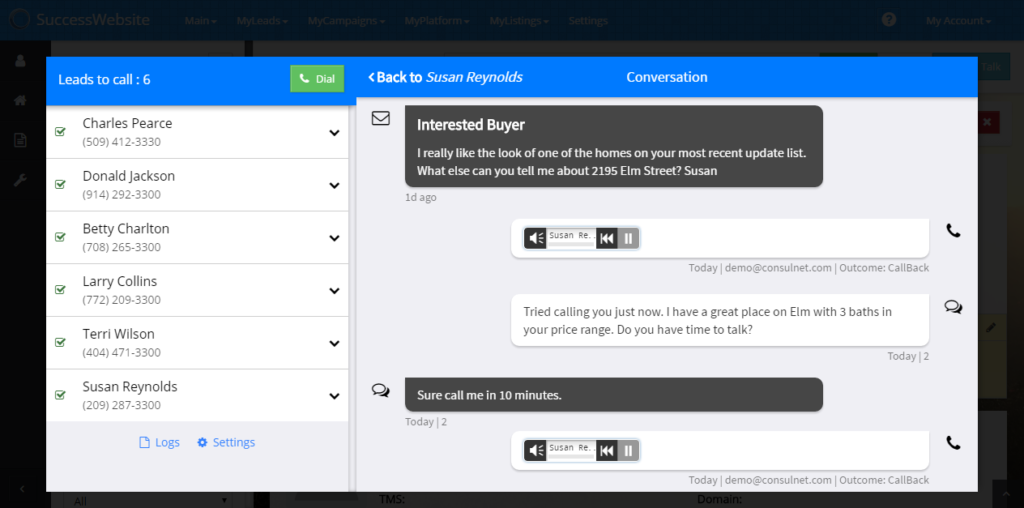 The SuccessEngage Advantage
John was able to make a difficult task easier by utilizing the Engage CRM. He now looks forward to making his calls which is a huge gain for his business.
Some of the other advantages to using SuccessEngage to follow-up on your online leads are:
All leads from your Facebook campaigns are captured with express consent for follow-up through calling, SMS text messaging and/or email.
Social profiles such as Facebook, Twitter, LinkedIn, and Pinterest are automatically pulled and attached to the lead record. This also helps you visually identify leads with correct contact information.
The Engage Calendar provides Call Blocks, which let you begin dialing your latest leads list with just one click. It's also integrated with Google Calendar so you can view appointments and callbacks on your daily schedule.
Integrated Action Plans – track any number of tasks related to a lead, and assign tasks to your team members.
All calls, email, text messages, listing and web view activity for a lead are recorded in one place in their CRM record. You can review full conversation history, including phone call recordings.
Filter and Segment your leads by campaign tracking (TMS) code, tags, or lead activity.
Automated Nudge plans to perform pre- and post-call actions like sending property HotLists, listing updates or a quick email/text message.
We know that getting those leads on the phone and starting more conversations is what our members need most in order to succeed. Engage was designed with that goal in mind.
It's gratifying to hear stories like John's and know that Engage has helped him do a better job cherry-picking his leads and getting more responses. SuccessEngage CRM eases the pain of follow-up, one conversation at a time.