Inexperienced agents are often confused about what home buyers and home sellers really want. We sometimes fool ourselves into thinking that buyers and sellers want a realtor when the reality is, the only thing buyers are interested in are listings and finding their next home. As for Sellers, they want a buyer for their home.
The Most Effective "Bait" For Home Buyers
Listings are the perfect bait to attract and compel home buyers to raise their hand and request more information. And the better you are at setting the bait, the more leads you can generate.
So how do we set the most effective bait to attract home buyers in our market?
George Lorimer (San Diego, CA) has been using the Success HDX Listing Portal to set some very effective bait for a specific type of buyer: Downtown condo buyers. George knew that the condo market in Downtown San Diego was hot and wanted to launch a campaign to attract these buyers to his website.
We knew that these buyers were looking for listings that fit their criteria. The big question was: How can we effectively use these listings as bait to hook those buyers onto our line?
Step 1: Get In Front Of Your Target Audience
For this campaign, we used Facebook as our ad delivery platform because it is cost effective, allows for more flexibility with ad copy and images, and is an excellent media outlet to test our marketing message.
We chose to target Facebook users within a specific zip code and age range (see screenshot below).

Step 2: Create a Lead Ad to Compel and Capture Your Target Audience
In the world of online advertising, you literally have a nano-second to capture the attention of the prospect. We needed an offer that would stand out amidst the deluge of noise and distractions within the Facebook newsfeed. Offering access to any old listing was not going to cut it. We had to sweeten the bait and sharpen the hook.
In the screenshot below, notice the specifics of the offer and how it's written. Not only are we offering the list that the condo buyers want, but the opportunity to get a great deal on their next condo purchase.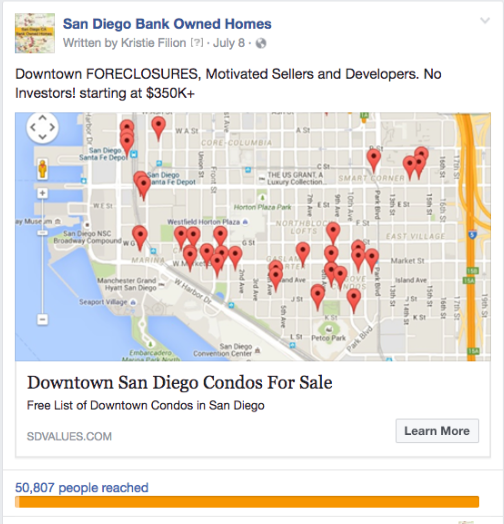 Step 3: Get The Click and Capture The Information
The #1 goal of your ad is to generate the click. We like to use map images from our HDX site that show active listings as the main image in the ad because it makes for excellent "click bait".
When the prospect clicks on the ad, you can either send them to a landing page or in the case of Facebook Lead Ads capture their information before sending them to your landing page.
In the image below, notice the form that appears in the event of a click or tap.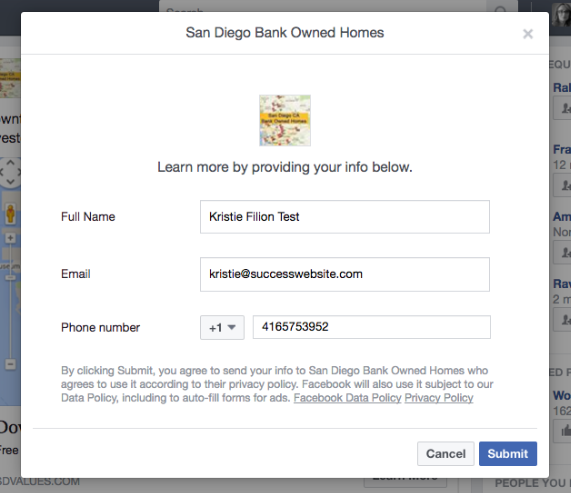 Step 4: Fulfill Their Request And Give The Home Buyers What They Want
If they're surfing online and/or perusing Facebook, people are looking for instant gratification. At this point, you already have their info, so make sure the goods are delivered. It's not nice to leave your leads high and dry.
Below is the HDX Hotlist specifically designed to fulfill these Facebook requests – delivered automatically.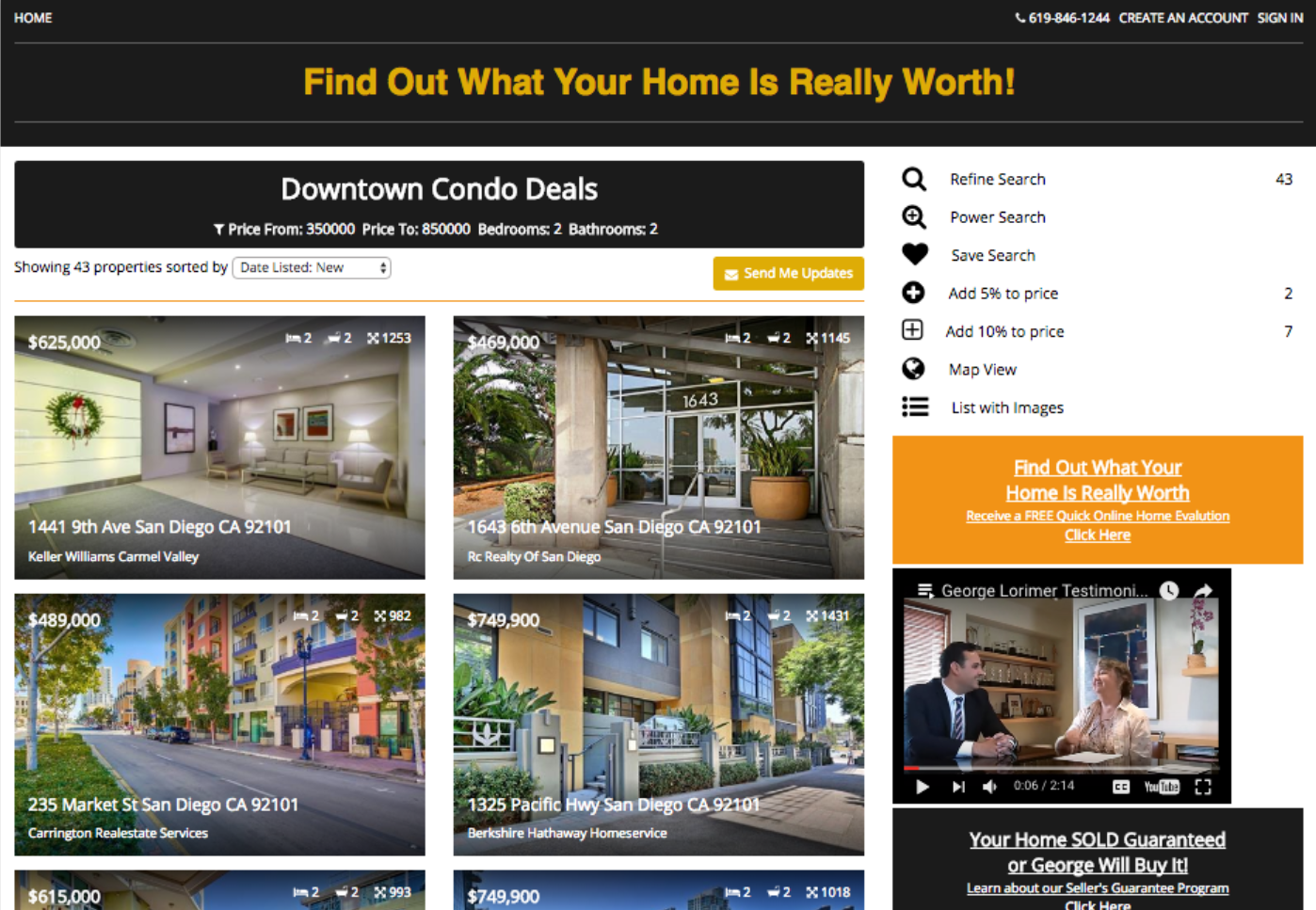 Step 5: Follow-Up On The Leads!!
WARNING: Skipping this step will render all marketing, traffic and leads useless!
Congratulations! You're generating leads who are looking for a specific type of home. Now they must be followed up with. The longer you wait to make the call, the colder the lead will become. Be sure to do the following to get the maximum return from your marketing efforts and dollars:
Call the lead back ASAP – Ideally within the first 5-10 minutes
If you do not get an answer the first time, hang up and call again
Use the MyLeads CRM included with the SuccessWebsite marketing platform to utilize the follow-up script and make notes as every detail is important
Make sure you schedule a Next Call Date, especially for unanswered calls
Be prepared to call up to 12 times before converting the lead
Follow-up is one of the most important business-building activities and it's best to put aside dedicated time to do it. Successful agents, like George, block up to 30 minutes a day to focus on their follow-up.
Step 6: Build Your "Buyers In Waiting" List
What do Sellers want? Sellers want Buyers!! The Downtown Condo Hotlist Campaign is performing two crucial functions: Generating new buyer leads AND building a "Downtown Condo – Buyers in Waiting" list to present to your potential sellers. This list is proof that you have a load of active buyers looking for a home just like theirs. This is worth its weight in gold when you're in a listing presentation.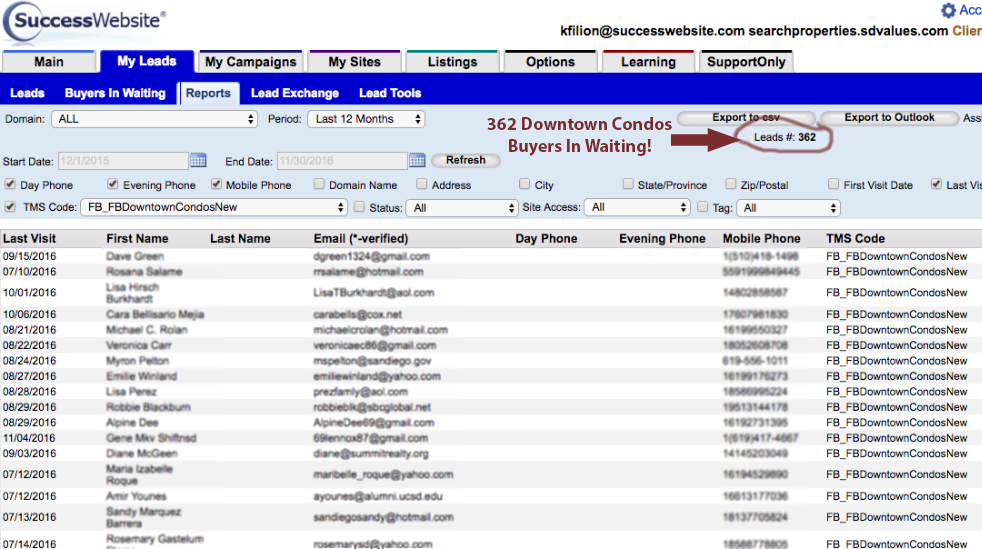 If you know the type of homes that are selling quickly in your market, you too can run a campaign that is catered to your target audience. The desired result: You become the provider of what those buyers and sellers in your marketplace really want!